Hitching Post Apartment Motels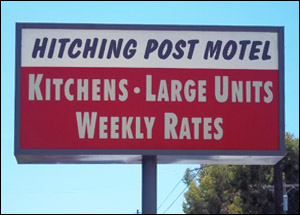 Are you planning on moving to San Diego? Are you looking for somewhere to stay temporarily while you are here for an extended stay? Do you want bargain prices on short-term or long-term housing?

The Hitching Post Apartment Motels offer you all of the comforts of home, with the amenities of a quality motel. Hitching Post Motels offer short-term and long-term living for visitors and residents of San Diego, California.

We have six locations throughout San Diego County to serve you: Mission Beach, Ocean Beach, Hillcrest, SDSU College Area, La Mesa and East San Diego. We offer a variety of features at reasonable rates. Most of our units are fully furnished and have color TV, cable with HBO, air conditioning, full kitchens and queen-sized beds. Many of our locations have self-serve laundry facilities on the premises.

Our properties are more economical than most motels, and are run by resident managers, giving the motels a more family feel. The properties serve the transitional housing needs of the community. We can accommodate customers that would like to stay for a day, a week, a month or as a permanent resident.

For a great room at a great price that meets your needs, contact one of the Hitching Post Motels today!